American Landmaster LS550 (4WD)
One of the most affordable 4WD UTVs on the market.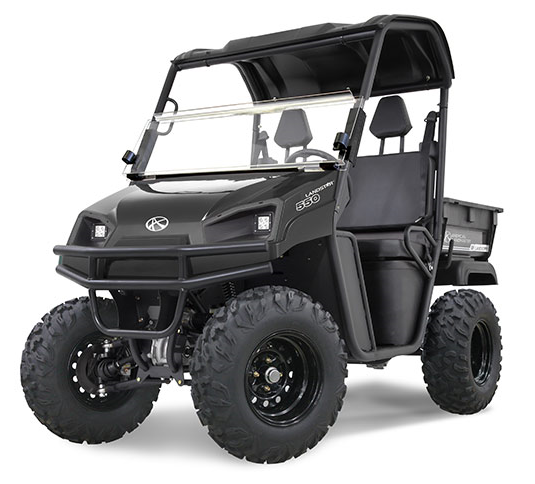 Power Steering – Added comfort & effortless turning
Available as an upgrade , power-steering gives you an incredibly smooth turning experience in the toughest conditions. If you're planning on using your vehicle daily or have joint pain, power-steering is a must-have.
On-Demand 4×4 / Rear Locking Differential
Our unique drive-train system gets to know you and your work environment. When it senses rear slippage, 4wd will automatically be engaged. For added traction, engage the cable-actuated rear locking-differential. This locks both rear tires to spin at the same time, adding additional traction for super tough terrains.
All steel frame
Every LandStar frame is bent, welded, powder-coated and assembled in our Columbia City, Indiana facility. Don't believe us, just stop by our headquarters anytime during the week and we'd be glad to give you and your guests a tour of our manufacturing facility. With our full steel frame you won't have to worry about sticks, rocks, or other debris tearing a hole in your floor boards.
Voltage & Hour Gauge included
With a range up to 100 miles on all our gas powered units, you won't have the headache of having to refuel constantly. All vehicles now come standard with a fuel gauge, hour meter, and battery meter. Now you'll know exactly when it's time to fuel up, get your UTV in for maintenance or tend to your battery.
Tow like a boss
Each vehicle comes equipped with a rear hitch giving you the capability to tow up to 1,200 lbs on our 4wd units and 1,100 lbs on our 2wd units. You'll have enough towing power to handle just about any job. Why pay thousands more with another brand when American LandMaster offers you a utility vehicle with the same capabilities?
Haul just about anything
With a payload up to 500 lbs, on our 4wd units, and 400lbs, on our 2wd units, you'll be able to transport lumber, tools, fuel, or pets wherever they need to go. All four bed options have dump-functionality. Our hauling power matches the competition for the 48in platform UTVs, but beats them on American-Made and Price every time.
Trail-ready / Transport-ready
With our unique nimble design, you'll be able to squeeze through tight trails and hidden terrains a lot easier than other brands of UTVs. In addition, you'll find that our vehicle is much easier to transport and fits nicely in the bed of a pickup truck.