Club Car 411 LSV
Multi-Purpose, All-Electric LSV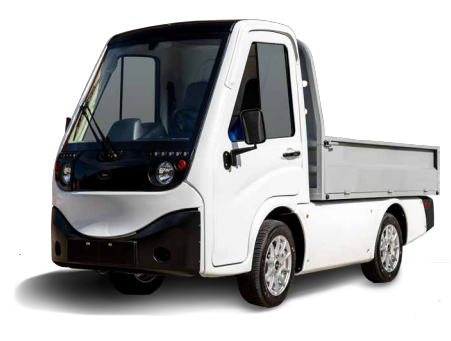 The Club Car 411 LSV is the compact all-electric vehicle designed for your campus. Ideal for low-speed logistics and cargo services, it has the agility and versatility that's essential in a campus or urban environment, filling the gap between full-sized trucks and small utility carts.
Street Legal Low-Speed Vehicle
As a low-speed vehicle compliant with U.S. and Canadian safety standards, the 411 LSV comes with a VIN and once registered, can be driven on roads posted 35 mph or less. It meets safety standards and comes equipped with safety glass, three-point seatbelts, windshield wipers, and more.
Power to perform, economically
The 411 LSV's powerful all-electric motor has the range to handle a full day's work and recharge overnight. And with options like a GPS locator, geofencing, and a vehicle management system, you get full control over how and where it is used.
Comforts that get the job done
The 411 LSV replaces a full-sized truck, but it doesn't leave the comforts behind. Unlike many utility vehicles, the 411 sports lockable doors, a back-up camera, radio, and the real music to your crew's ears, ventilation and heat.