Polaris GEM eM 1400
The smarter way to move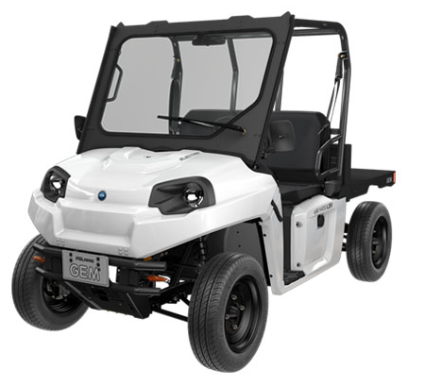 The GEM eM 1400 LSV is a rugged, hard-working, street legal vehicle, delivering 1,400 lb payload and 1,250 lb towing capacities without sacrificing comfort or quality. Count on the eM 1400 LSV for the big jobs.
Street legal
The eM 1400 LSV is a street legal vehicle, meaning that you can travel from jobsite to jobsite with ease.
Work in comfort
With superior suspension, comfortable seats, optional doors, and heater, GEM eM 1400 LSV offers maximum comfort.
Safety features
GEM vehicles come with standard safety features such as 3 point safety belts, backup camera, 4 wheel disc brakes and street rated tires.
Customizability
The GEM eM 1400 LSV offers numerous carrier and cab options, and Lock & Ride® accessories to improve productivity.
Towing and hauling
With a payload capacity of 1,400 lbs and a towing capacity of 1,250 lbs, the GEM eM 1400 LSV can haul some serious equipment.
Sustainable transportation
GEM vehicles are electrically powered, making them a sustainable alternative to gas powered trucks and vans.