Carryall – Low Speed Utility Vehicle
WORK ANYWHERE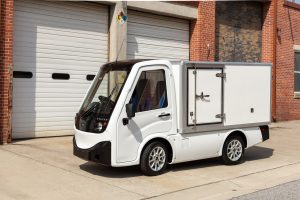 A tough and reliable street-legal vehicle from the industry leader in electric vehicles. Club Car currently offers three Low Speed Utility Vehicles to choose from:
Carryall 411: MULTI-PURPOSE, ALL-ELECTRIC LSV
The Club Car 411 LSV is the compact all-electric vehicle designed for your campus. Ideal for low-speed logistics and cargo services, it has the agility and versatility that's essential in a campus or urban environment, filling the gap between full-sized trucks and small utility carts.
Carryall 510: SMART AND NIMBLE
Carryall 510 LSV offers the affordability and maneuverability you need, with the power of a small truck – all in an electric, street legal utility vehicle.
Carryall 710: POWERFUL AND PERFECTLY SIZED
Carryall 710 LSV includes all the benefits of the Carryall 510 LSV, but with a larger bed and increased total vehicle capacity – making it the ideal street legal utility vehicle for hauling long, bulky loads.
View in Showroom