Club Car Onward™ 6 Passenger | Electric or Gas Golf Cart
More Room, More Passengers, More Fun!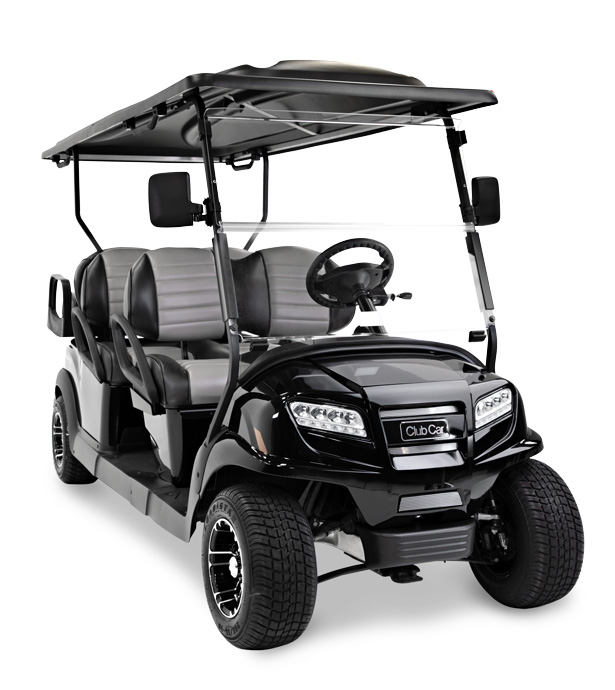 Crafted for peace of mind
The enhanced suspension system provides exceptional handling and performance when fully loaded. Pair that with the 4-wheel brake system engineered for optimal stopping power, and you have the best 6 passenger vehicle on the market!
Crafted for comfort
Our carefully engineered front row seat pod provides ample leg room allowing second row passengers to stretch out. The Onward 6P takes convenience to a new level with easy to reach second row grab handles and cup holders as well as an extended canopy design that covers third row passengers.
Crafted to impress
The 6P's unique design is crafted not only for luxury, but to stand out as the sleekest vehicle in the neighborhood. Build your car to your specifications and preferences with completely customizable options including color, seats, wheels and more!
A Luxurious Journey with the Club Car Onward
Rating: ⭐⭐⭐⭐⭐ (5/5)
The Club Car Onward is a golf cart that transcends its utilitarian origins, offering a unique blend of style, performance, and versatility. Having recently experienced its capabilities firsthand, I am compelled to share my impressions of this exceptional vehicle.
Design and Aesthetics: ⭐⭐⭐⭐⭐ (5/5)
The Club Car Onward is a head-turner, marrying sleek lines with a modern aesthetic. The attention to detail in the design is evident, from the chrome accents to the stylish LED headlights. The customizable options allow owners to personalize their Onward, making it a true reflection of their taste and personality.
Performance: ⭐⭐⭐⭐⭐ (5/5)
Behind its stylish facade, the Club Car Onward delivers a performance that exceeds expectations. The electric model I tested boasted a silent, smooth ride with impressive acceleration. Navigating various terrains, from the golf course to neighborhood streets, was a breeze. The gas-powered option offers a satisfying purr and a robust power output, providing an exhilarating driving experience.
Comfort and Interior: ⭐⭐⭐⭐⭐ (5/5)
The interior of the Club Car Onward is where it truly shines. Plush, comfortable seating and a spacious cabin make for a relaxing ride. The dash is well laid out, and the available tech features, including a high-quality sound system and a user-friendly touchscreen, add a touch of luxury to the experience. The attention to ergonomics ensures that even long rides are fatigue-free.
Versatility: ⭐⭐⭐⭐⭐ (5/5)
What sets the Onward apart is its versatility. While it may have golf roots, this vehicle is equally at home in a residential neighborhood or a resort setting. The fold-down rear seat option transforms it into a practical utility vehicle for transporting groceries, luggage, or even friends and family. The Onward effortlessly adapts to various lifestyles, making it a valuable addition to any community.
Build Quality and Durability: ⭐⭐⭐⭐⭐ (5/5)
Club Car is renowned for its commitment to quality, and the Onward is no exception. The robust build ensures durability, and the attention to detail in manufacturing is evident throughout. This is a vehicle built to withstand the test of time, providing owners with a reliable and enjoyable mode of transportation.
Conclusion:
In conclusion, the Club Car Onward is more than just a golf cart; it's a lifestyle choice. Whether you're a golf enthusiast, a neighborhood commuter, or someone who appreciates a touch of luxury in their daily travels, the Onward delivers on all fronts. With its striking design, impeccable performance, and unmatched versatility, the Club Car Onward earns its place as a top contender in the personal transportation market. Driving the Onward is not just a journey; it's an experience that leaves you wanting more.
Club Car Onward 6 Passenger, Gas or Electric Golf Cart