Club Car Villager™ 8 | Electric or Gas Golf Cart
Our version of the stretch limo.
Built from the ground up for quality, endurance, and the smoothest ride available for up to 8 people.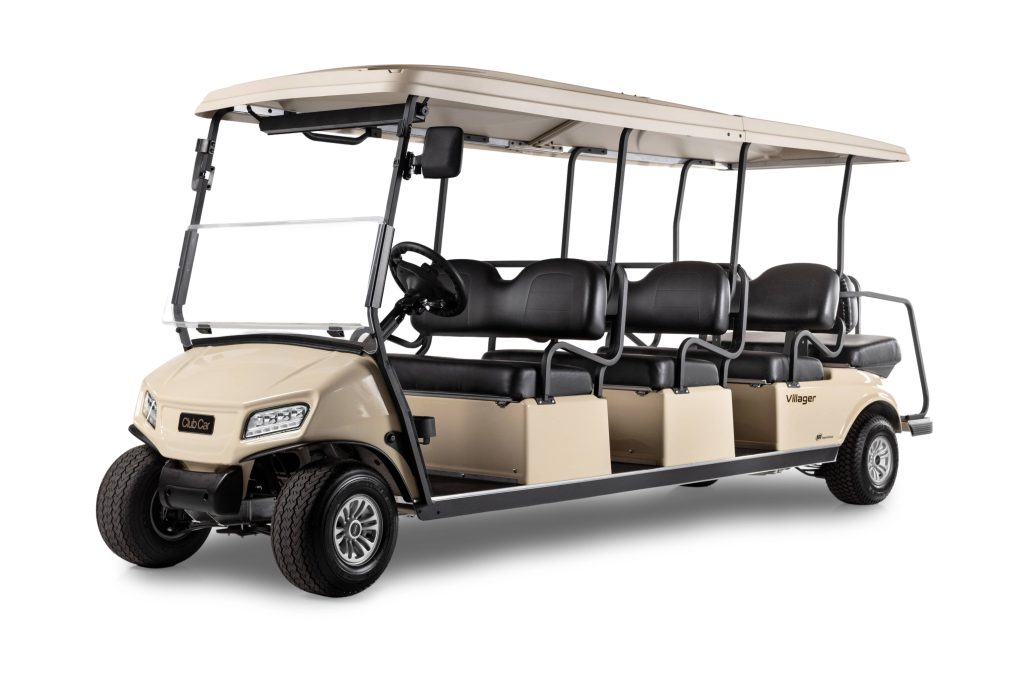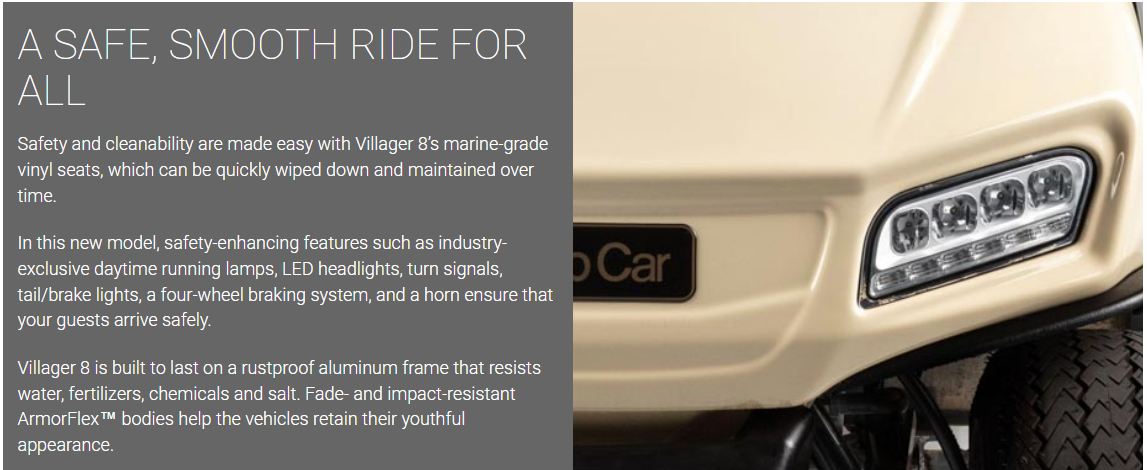 Club Car Villager 8 – Elevating the Standard for Eight-Passenger Transportation
Rating: ⭐⭐⭐⭐⭐ (5/5)
The Club Car Villager 8 stands as a testament to excellence in the realm of people movers, seamlessly combining spacious comfort with Club Car's renowned reliability. After a comprehensive exploration of its features, it's clear that the Villager 8 not only excels in transporting passengers but does so with style, convenience, and an unmatched level of versatility.
Design and Aesthetics: ⭐⭐⭐⭐⭐ (5/5)
The Villager 8 showcases a design that strikes a harmonious balance between functionality and aesthetics. With sleek lines, a polished finish, and an inviting front end, it stands out as a premium choice for those seeking both comfort and style. The extended canopy provides ample shade for passengers, and the overall design radiates a sense of modern sophistication.
Performance: ⭐⭐⭐⭐⭐ (5/5)
Under the hood, the Villager 8 delivers a smooth and reliable performance. The electric model offers a near-silent ride with responsive acceleration, making it an ideal choice for resorts, residential neighborhoods, or commercial spaces where a quiet operation is crucial. The gas-powered version provides a robust powertrain, ensuring a consistently enjoyable driving experience for both short trips and extended journeys.
Comfort and Interior: ⭐⭐⭐⭐⭐ (5/5)
The Villager 8 stands out in its commitment to passenger comfort. The spacious cabin comfortably accommodates eight passengers, and the well-padded seats contribute to a relaxed and enjoyable journey. The extended roof not only provides shade but also adds to the overall comfort. Optional accessories, such as cup holders and grab handles, enhance convenience and make the Villager 8 an inviting space for passengers.
Versatility: ⭐⭐⭐⭐⭐ (5/5)
The Villager 8 is not just a golf cart; it's a versatile people mover designed for various settings. Whether shuttling guests around a resort, transporting families in a residential community, or providing efficient transportation in a commercial setting, the Villager 8 adapts effortlessly to diverse needs. The fold-down rear seat adds an extra layer of practicality, transforming the cart into a utility vehicle for cargo when needed.
Build Quality and Durability: ⭐⭐⭐⭐⭐ (5/5)
Club Car's commitment to quality is evident in the construction of the Villager 8. The solid build and attention to detail ensure durability, making this golf cart a reliable and sturdy choice for transporting passengers. The durability of the Villager 8 translates into a low total cost of ownership, making it a sensible investment for businesses, resorts, or communities.
Conclusion:
In conclusion, the Club Car Villager 8 stands out as a top-tier choice in the realm of people movers. Its combination of stylish design, reliable performance, and spacious comfort make it an ideal solution for various applications. Whether you're in the hospitality industry, managing a residential community, or simply seeking a reliable and comfortable mode of transportation for a group, the Villager 8 exceeds expectations. It's not just a golf cart; it's a spacious oasis of comfort and versatility on wheels, setting a new standard for eight-passenger transportation.